---
3D X-Ray Will Help Keep You Smiling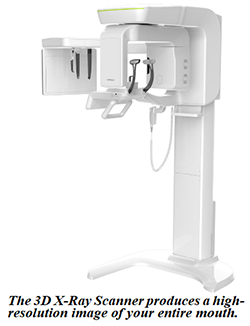 Dental Centers has recently added a new state-of-the-art 3D CT Scanner to better meet your dental needs. The new 3D CT Scanner allows us to take a very precise three-dimensional CT (computed tomography) scan of your oral cavity. Each scan reveals the anatomic details of your teeth, tooth roots, bone density and air way.
Why is this important to you? Your dentist can now see virtually every aspect of your mouth and can diagnose and fix issues early, that otherwise might be missed in a traditional x-ray. With this information, your dentist will be better able to provide the high quality customized dental care that fits your needs.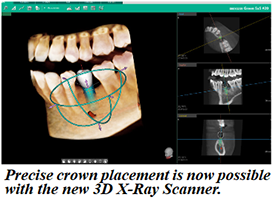 3D CT scans greatly benefit traditional implants services. When used in conjunction with modern CAD/CAM technology, your Doctor is now able to determine the precise position of an implant prior to the start of treatment. A surgical guide is then created to ensure the treatment follows the exact digital plan. This superior level of accuracy helps provide a successful long term restoration.
For root canal procedures, your Doctor can virtually perform the root canal to detect potential complications that may require a change in your treatment or the need to see a specialist.
With our new 3D CT Scanner, we can better assess your dental needs and more precisely meet them to help insure your healthy and beautiful smile.
For your convenience, we accept most dental insurance, cash, check, Visa, Master Card, Discover and American Express. If you need a little extra help with payment, Care Credit now offers 6 months no interest financing on most dental services with a minimum balance of $700 to those who qualify (some restrictions apply).
Walk-ins are welcome. Appointments are recommended. Our friendly front desk personnel are ready to schedule appointments that are convenient for you. Call us at (800) 372-4554 or (800) 354-1905 to schedule your next appointments for you and your family.
---
Our office hours are 7:00 AM to 4:00 PM - Monday through Friday. The phones are active 24 hours per day with an auto-attendant outside of our regular office hours. We accept Delta Dental, MetLife, Guardian and over 200 other dental insurance carriers. For your convenience, we accept cash, check, Visa, Master Card, Discover and American Express. We are committed to excellence and to service in all areas of dental care. We are here to help you achieve and maintain good dental health for your lifetime.