Our Dental Blog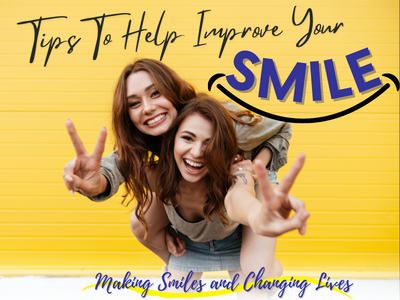 Improving Your Smile
SMILE...It's good for you and others! If you are having issues with your SMILE, here are some good tips to help improve and keep you Smiling...
1. Dental hygiene: Brush and floss your teeth regularly to keep your teeth and gums healthy.
2. Regular dental checkups: Visit your dentist every six months for checkups and cleanings. This can help prevent dental problems and keep your teeth clean and bright.
3. Teeth whitening: Consider teeth whitening treatments as an option to remove stains and brighten your smile.
4. Orthodontics: If you have crooked or misaligned teeth, consider orthodontic treatments such as braces or aligners to straighten your teeth and improve the appearance of your smile.
5. Practice good posture: Good posture can help showcase your smile and can also make you appear more confident.
6. Smile often: Finally, smile often! The more you smile, the easier it becomes and the more natural it looks on you. Smiling is contagious and can make others feel happy and welcomed.
*Needing help with your SMILE? At Dental Centers, we offer Orthodontics, Dentures, Implants and of course, General Dentistry for the entire family, ages four and up! Our Dentistry services include Oral Evaluations, Digital X-rays, Cleanings, Fillings, and more. Our experienced team of dentists, hygienists and expanded function dental assistants are ready to accurately evaluate and treat your family's dental health needs. Appointment times usually fill up quickly, so call us today at (417) 466-7196 or at (800) 354-1905 to schedule you or your family's next visit.
Blog Archive